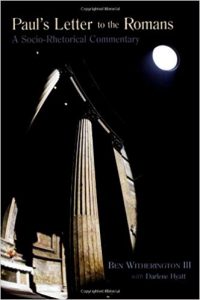 Ben Witherington is the author of the Romans volume in the Socio-Rhetorical Commentary series. Witherington is also the creator and editor for the SRC series.
According to the publisher, while Paul's letter to the Romans is the most studied and commented-on document from the biblical period, the major exegetical books on Romans from the nineteenth and twentieth centuries have been overwhelmingly shaped by the Reformed tradition.
Through a careful survey of work on Romans by both ancient Church Fathers and modern exegetical scholars, Ben Witherington III here argues that the interpretation of Romans since the Reformation has been far too indebted to ― and at key points led astray by ― Augustinian readings of the text as filtered through Luther, Calvin, and others.
In this first full-scale socio-rhetorical commentary on Romans, Witherington gleans fresh insights from reading the text of Paul's epistle in light of early Jewish theology, the historical situation of Rome in the middle of the first century A.D., and Paul's own rhetorical concerns.
Giving serious consideration to the social and rhetorical background of Romans allows readers to hear Paul on his own terms, not just through the various voices of his later interpreters.
Commentary Overview
Get this book on Amazon via its exact ISBN: Romans – Ben Witherington
See other well-reviewed Romans commentaries: Best Romans Commentaries
See more about this series: Socio-Rhetorical Commentaries
Volume Overview
Paperback: 459 pages
Publisher: Eerdmans (March 2, 2004)
Language: English
ISBN-10: 0802845045
ISBN-13: 978-0802845047
Volume Reviews
Craig S. Keener: "Ben Witherington is one of the most outstanding New Testament scholars of our generation, and in this commentary on Romans he brings his usual breadth of knowledge and reverence to the text. Scholars will appreciate the fresh analysis and rhetorical insights, while the work's clear language and sensitivity to Paul's message make it ideal for general readers desiring a readable commentary. "
Christopher Bryan: "Ben Witherington's sensible, clearly written commentary is based on a sound knowledge of the first-century Jewish and Greco-Roman discourses of which Paul's letter to the Romans was a part, yet it also makes a point of addressing issues and concerns pertinent to twenty-first-century Christian life and faith. This volume should prove a valuable resource for students and preachers alike."
Christian Chronicle: "An excellent resource for those who want a scholarly, in-depth study of Romans."
Series Overview
The Socio-Rhetorical Bible commentary series is the project of biblical scholar, Ben Witherington. Current volumes cover New Testament books. The series is near completion. The unique characteristic of the Socio-Rhetorical commentary series is its aim to offer readers "insights that would otherwise remain hidden using only form criticism, epistolary categories, and traditional criticism."
Witherington teaches at Asbury Theological Seminary and is on the doctoral faculty at St. Andrews University in Scotland. He is an ordained pastor in the United Methodist Church. Witherington is the author of how over 30 books and has appeared on the History Channel, Discovery Channel, and other major networks. He also writes at patheos.com.