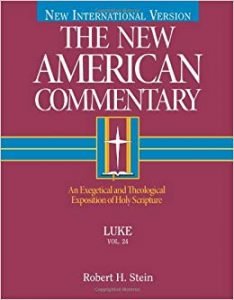 Robert Stein is the author of the Luke volume in the New American Commentary series.
Stein wrote the commentary in 1992.
It is considered one of the best Luke commentaries available today.
It is praised for its exegesis and for its helpfulness to pastors.
Sunday school teachers and bible study leaders will also find it helpful.
It is not technical, so the reader does not need to know Greek to utilize it.
Volume Details
Series: The New American Commentary
Hardcover: 642 pages
Publisher: Holman Reference (1993)
ISBN-10: 0805401245
ISBN-13: 978-0805401240
Get this commentary on Amazon via its exact ISBN: Luke by Robert H. Stein
Video Overview
Series Overview
The publisher notes that the New American Commentary is for those who have been seeking a commentary that honors the Scriptures, represents the finest in contemporary evangelical scholarship, and lend itself to the practical work of preaching and teaching.
The NAC series is for the minister or Bible student who wants to understand and expound the Scriptures. Notable features include:
Commentary based on NIV

The NIV text printed in the body of the commentary

Sound scholarly methodology that reflects capable research in the original languages

Interpretation that emphasizes the theological unity of each book and of Scripture as a whole

Readable and applicable exposition
See the main page for the NAC series: New American Commentaries