Diving into the vast world of Christian Bible commentaries can feel overwhelming. This list below aims to guide you through a selection of highly regarded New Testament commentaries that offer profound insights, scholarly depth, and practical application, assisting you in enriching your biblical understanding and spiritual growth.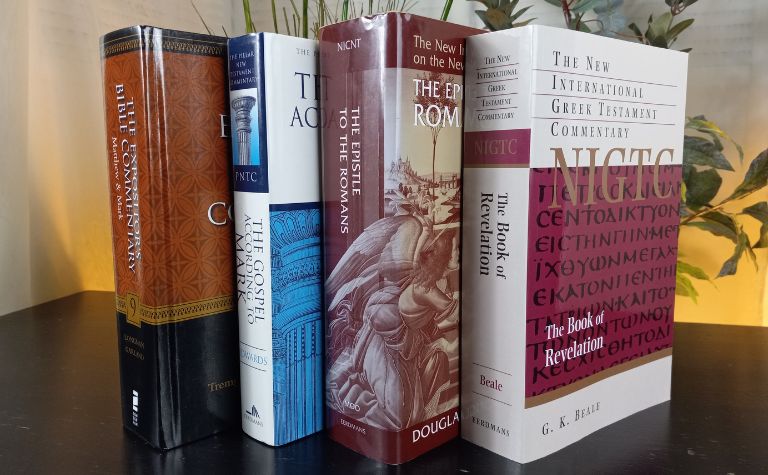 Best Commentaries on Matthew, Mark, Luke, and John
Spotlight: Readers appreciate D.A. Carson's commentary on Matthew for its scholarly depth, accessible language, and thoughtful insights. Carson integrates historical context, linguistic analysis, and theological perspectives, making the biblical text more understandable and applicable to everyday life.
Best Commentaries on Acts, Romans, and 1-2 Corinthians
Spotlight: Douglas Moo's commentary on Romans is highly regarded for its thorough research, insightful exegesis, and clear writing. Moo skillfully balances academic rigor with pastoral sensitivity, making complex theological concepts accessible. Readers appreciate how he illuminates the text's relevance, aiding their understanding and application of Romans.
Best Commentaries on Galatians, Ephesians, and Philippians
Spotlight: Harold Hoehner's commentary on Ephesians is lauded for its meticulous research and detailed exegesis. His expertise in Greek linguistics shines, deepening readers' understanding of the text. His application of historical and cultural context brings Ephesians to life.
Best Commentaries on Colossians, Philemon, 1-2 Thessalonians, and the Pastoral Epistles
Spotlight: William Mounce's commentary on the Pastoral Epistles is celebrated for its thoroughness, scholarly depth, and clear prose. His analysis adeptly bridges the ancient text to modern application, offering valuable insights for today's readers. His rigorous exploration of these Epistles aids readers in understanding and living out these biblical teachings.
Best Commentaries on the Hebrew, James, 1-2 Peter, and Jude
Spotlight: Karen Jobes' commentary on 1 Peter is appreciated for its thoughtful exegesis, rigorous scholarship, and practical application. Her engaging writing style makes complex concepts accessible. Readers value her ability to illuminate the text's historical context.
Best Commentaries on the 1-3 John and Revelation
Spotlight: G.K. Beale's commentary on Revelation is esteemed for its comprehensive, detailed analysis and insightful interpretations. His proficiency in Greek and profound understanding of apocalyptic literature guide readers through Revelation's complexities. His commentary offers scholarly depth and spiritual richness, enhancing readers' comprehension of the last book of the Bible.