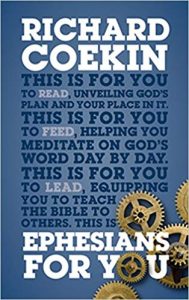 Richard Coekin is the author of the Ephesians commentary in the For You series. Dr. Coekin has been involved in launching numerous churches and other ministries, such as the London Mens' and Womens' Conventions, the 9:38 Ministry Training Strategy, the Passion for Life mission, and most recently The Planting Collective. He is also involved in a Bible ministry to Members of Parliament in Westminster.
After studying law at Cambridge, and practicing for four years as a commercial lawyer in London, Richard studied theology at Moore College Sydney and Oxford University. After a training role in Manchester, he moved to become the first senior pastor of Dundonald church in 1995, a congregation of 35 adults that was planted into a school hall. By God's grace, God has grown Dundonald church steadily over many years to become a church of 600 adults and 300 children which has planted 9 churches locally and from which the Co-Mission Church Planting Initiative was launched in 2005.
Dr. Coekin is the author of several books including Our Father and Gospel DNA. Richard is married to Sian and they have five children.
7 Questions on Ephesians in the For You Commentary Series
Recently, Dr. Coekin kindly answered my questions about his Ephesians commentary. Readers will learn how this commentary came to be, what is unique about it among Ephesians commentaries, and how the project edified him personally.
1. What previous research and/or personal interests led you to this project and helped prepare you to write this commentary on Ephesians?
I've preached through Ephesians three times for our church over the years to the church that I serve consulting helpful commentaries and in particular Peter O'Brien in the Pillar series.
2. Who is the intended audience for this commentary? Would it benefit pastors? professors? students? lay Christians in the local church?
Pastors, small group leaders and thoughtful church members.
3. What is unique about this commentary? What contribution does it make to studies of Ephesians?
I hope that there is nothing novel about the doctrines espoused but since this is a pastoral reflection on the practical implications of this great epistle in the life of a local church I pray that "the manifold wisdom of God will be made known to the rulers and authorities int he heavenly realms" as churches unite in proclaiming reconciliation in Christ to all nations.
4. What section or passage of this commentary was particularly memorable to research and write? Why?
Ephesians 6: 10-18 concerning the armour of God because this is the climax and not a digression from the major themes of the letter.
5. What personally edified you in writing this commentary, increasing your affections for Christ?
So many things -perhaps supremely the privileges in Christ displayed in Paul's introduction of being chosen by the father, redeemed by the son and sealed with the holy spirit….to the praise of his glory.
6. Besides your commentary, what are your top recommended books (commentaries or otherwise) on Ephesians?
7. What is next for you? What project are you currently working on? How can people follow your work and ministry?
Jonah – the reluctant evangelist – I've just finished a draft. It will be available through the Co-Mission website.
Own Richard Coekins's Ephesians commentary
The link provided will direct you to this volume via it's exact ISBN number: