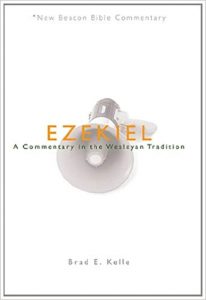 Brad E. Kelle is the author of the Ezekiel volume in the New Beacon Bible Commentary series. Dr. Kelle (Phd, Emory University) is the Professor of Old Testament and Hebrew at Point Loma Nazarene University.
Dr. Kelle has served as the chair of the SBL's Warfare in Ancient Israel Consultation (2004-06) and Section (2007-12) at the Annual Meeting of the Society of Biblical Literature. He is also the past president and current member at large (executive board) of the Society of Biblical Literature Pacific Coast Region.
Dr. Kelle is the Old Testament editor for Currents in Biblical Research and has written or edited a variety of works on the Old Testament and ancient Israel. His research and writing focus on Old Testament prophetic books and ancient Israelite and Judean history.
Dr. Kelle is also an ordained elder in the Church of the Nazarene and spent eight years as an associate pastor, for youth and worship, at a Church of the Nazarene in the Atlanta area.
7 Questions on Ezekiel in the New Beacon Bible Commentary Series
Recently, Dr. Kelle graciously answered my questions about his Ezekiel commentary. Readers will learn how this commentary came to be, what is unique about it among Ezekiel commentaries, and how the project edified him personally.
1. What previous research and/or personal interests led you to this project and helped prepare you to write this commentary on Ezekiel?
I began to have a special interest in the Old Testament prophets during the time of my Ph.D. studies. Prior to this project, however, most of my attention had been on the so-called Minor Prophets (my first book was Hosea 2: Metaphor and Rhetoric in Historical Perspective, 2005. As this interest continued to develop over the years, I found myself also working on issues related to warfare in ancient Israel and the Old Testament (see my Ancient Israel at War 853-586 B.C., 2007. These issues included the significance of trauma within warfare and the use of insights from trauma theory for reading war-related biblical texts. The invitation from the series editors to write a new theological commentary on Ezekiel provided an exciting opportunity to see these areas of interest come together. Indeed, several previous works had used trauma as a lens for engaging Ezekiel but few, if any, full length-commentaries had attempted a sustained reading of the book as a whole from this perspective. I felt sure that these insights would provide new ways to understand the difficult parts of Ezekiel (especially some of the problematic violent depictions), as well as the overall theology at work in the book.
2. Who is the intended audience for this commentary? Would it benefit pastors? professors? students? lay Christians in the local church?
I wrote the commentary specifically for the benefit of pastors, ministers, and students who seek a theological engagement with Ezekiel that also takes account of the book's historical context and literary dimensions. The intended audience is especially those from the Wesleyan theological tradition, and the commentary seeks to engage Wesleyan theology at various points. But I have also attended to mainline critical biblical scholarship in such a way that I hope the book is useful to students and scholars from a wide variety of perspectives. I have tried to write in such a way that it will be accessible to Christian lay readers and others just beginning with critical biblical studies.
3. What is unique about this commentary? What contribution does it make to studies of Ezekiel?
My commentary has two unique elements. First is the attempt to engage the book of Ezekiel with particular attention to dialogue with elements of Wesleyan theology. For Ezekiel, the richest point of contact proved to be the Wesleyan emphasis on holiness (of God and God's people), since this is also a key element within the book's theology. The second unique element is the sustained use of trauma study as a lens for understanding Ezekiel. I employ insights from trauma theory first as a means of understanding the experiences of Ezekiel and his audience in the destruction of Jerusalem and subsequent exile, as well as how those experiences explain some of what we see in the book. I also use trauma study as a lens for understanding how the book's theology works, especially how Ezekiel uses the understanding of holiness in the Old Testament priestly tradition as a means to articulate the meaning of destruction and exile and the possible future for God's people.
4. What section or passage of this commentary was particularly memorable to research and write? Why?
Within my discussion of the historical background of Ezekiel, the section discussing the events and experiences of the exile (and accompanying Babylonian destruction of Jerusalem) was memorable because of the insights provided by trauma study. A trend within modern scholarship had largely relegated the exile to a historical-political event and emphasized that the experience was not that bad for those involved (i.e., the exiles were not enslaved, tortured, etc.). Insights from trauma theory suggest, however, that interpreters have overlooked the traumatic nature of these events, especially the ways that they were physically, emotionally, psychologically, and even spirituality destabilizing for the prophet and his community. When we begin to explore the nature of traumatic experiences and the effects on those who suffer them, we can gain a clearer picture of why Ezekiel says and does certain things reported in the book and what theological aims were at work in the messages.
5. What personally edified you in writing this commentary, increasing your affections for Christ?
As I entered the world of Ezekiel and imagined myself journeying into exile with the prophet and wrestling with questions of how to understand these events and what they mean for God and God's people, I realized the continued relevance of theology in the midst of crisis. Ezekiel offers God's people today resources for thinking theologically about who God is and who God's people are in the midst of crises like destruction and exile. How does one experience and even proclaim the holiness of God in the midst of events that seem to dismantle all to which we have clung for our sense of identity and life?
6. Besides your commentary, what are your top recommended books (commentaries or otherwise) on Ezekiel?
There are numerous, full-length, comprehensive, critical commentaries on Ezekiel that are useful for detailed study. For two works that offer a theological engagement with Ezekiel through dialogue with insights from trauma theory and in ways that are accessible to Christian audiences of pastors, ministers, and students, I recommend the following:
Nancy R. Bowen, Ezekiel (Abingdon Old Testament Commentaries; Nashville: Abingdon, 2010).
Daniel L. Smith-Christopher, A Biblical Theology of Exile (Overtures to Biblical Theology; Augsburg: Fortress, 2002).
I also recommend an older but classic theological treatment that places Ezekiel alongside Isaiah 40—55 and Jeremiah, examining each one's theological responses to the experiences of and issues raised by the destruction of Jerusalem and Babylonian exile: Walter Brueggemann, Hopeful Imagination: Prophetic Voices in Exile (Ausgburg: Fortress, 1986).
7. What is next for you? What project are you currently working on? How can people follow your work and ministry?
My most recent book came out in the fall of 2017: Brad E. Kelle, Telling the Old Testament Story: God's Mission and God's People (Nashville: Abingdon, 2017). The book provides an overall reading of the Old Testament (in the Protestant canon) as a whole from the perspective of missional interpretation. It is a companion to a more traditional introduction to the Old Testament textbook and reads the Old Testament as the story of God's mission to restore creation to the right-relationships for which it was intended and the calling of God's people to participate as the instrument within that divine redemptive mission.
I am currently writing two books. The first deals with the field of moral injury (related to the study of trauma within warfare) and the reading of biblical texts: The Bible and Moral Injury: Reading Scripture alongside War's Unseen Wounds (Abingdon Press). The second is a full-length commentary on Hosea to be a part of the Old Testament Library series: Hosea: A Commentary (Westminster John Knox).
Own Brad Kelle's Ezekiel commentary
The link provided will direct you to this volume via it's exact ISBN number: