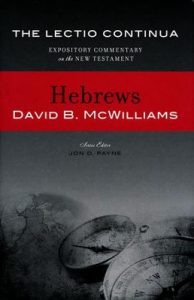 David McWilliams is the author of the Hebrews volume in The Lectio Continua commentary series. He is the Senior Minister at Covenant Presbyterian Church in Lakeland and has served there for over 30 years.
Dr. McWilliams' passions are the study of Scriptures, Reformed and Puritan theology, Christ-centered preaching, and shepherding people. He is a graduate of Mercer University (B.A.), of Westminster Theological Seminary (M.A.R., M.Div.) and of the University of Wales (Ph.D.).
Formerly, Dr. McWilliams served as Associate Professor of Systematic Theology on the faculty of Westminster Theological Seminary in Dallas.
Dr. McWilliams has authored numerous articles published in the Westminster Theological Journal, Modern Reformation, and others.
Besides Hebrews in the Lectio Continua Commentary Series, he also wrote Galatians in the Mentor commentary series.
Dr. McWilliams also serves on the Board at Greenville Presbyterian Theological Seminary in Greenville, SC. He is married to Vicky and they have a son Evan who is a pastor in England.
7 Questions on Hebrews in the Lectio Continua Commentary Series
Recently, Dr. McWilliams graciously answered my questions about his Hebrews commentary. Readers will learn how this commentary came to be, what is unique about it among Hebrews commentaries, and how the project edified him personally.
1. What previous research and/or personal interests led you to this project and helped prepare you to write this commentary on Hebrews?
When I taught Systematic Theology on the Westminster faculty, the course in which I most delighted was Christology. Consequently, at many points I interacted with the data of Hebrews' presentation of the person and work of Christ.
Also, I had often meditated upon Hebrews personally and had preached Hebrews to my congregation with, I hope, great blessing.
2. Who is the intended audience for this commentary? Would it benefit pastors? professors? students? lay Christians in the local church?
I hope that this exposition of Hebrews will benefit all of God's people at various places in understanding and life.
The exposition is essentially sermonic and is intended to instruct and apply Hebrews to all sorts of people and various "cases" in the congregation. The sermons were from my heart to the hearts of my people. The lost among us are not neglected in these sermons.
3. What is unique about this commentary? What contribution does it make to studies of Hebrews?
I hope that the sermons are faithful to the meaning of the text, have considerable depth but also clarity. Strangely, I have the impression that some may dislike or even despise sermonic expositions, but I hope that those with such prejudices will reconsider.
Many Puritan commentaries were sermonic and the printed sermons of Calvin are invaluable both for understanding the meaning of the text and applying it. In fact, we should remember that all of the minister's theological learning and labor comes together in the chief theological medium of preaching.
In addition, there is much application in this book. I am blessed to have read, and continue to read, very widely in theology and church history. Some of this shows through especially in the illustrative material.
4. What section or passage of this commentary was particularly memorable to research and write? Why?
This is difficult to answer. The high, Christological opening of Hebrews, the chapters that particularly deal in depth with the intercessory work of Christ…but, perhaps the "apostasy" passage of Hebrews 6 was the most challenging and filled my heart with sober reflection.
I was humbled and thankful to read the review of my Hebrews exposition in Vox Reformata and appreciated professor William's high estimate of the book as a whole. However, he singled out the exposition of chapter 6 for special notice. He really understood what I was about and I could not be more thankful for his sympathetic review.
Every minister knows the pain and the perplexity that comes when professing Christians show themselves to be other than what they have professed themselves to be.
5. What personally edified you in writing this commentary, increasing your affections for Christ?
Steeping in Hebrews' high Christology and meditating on the infinitely valuable blood of Christ deepens my worship and also leads me to appreciate the intercession of Christ in all its multifaceted and powerful blessing – this penetrates my soul.
I sincerely hope that readers will be led to worship as they contemplate this theme.
6. Besides your commentary, what are your top recommended books (commentaries or otherwise) on Hebrews?
I still prefer Philip E. Hughes among the more modern commentaries on Hebrews and the old classic of John Brown of Edinburgh still in print through Banner of Truth. (Links go to Amazon).
7. What is next for you? What project are you currently working on? How can people follow your work and ministry?
I recently completed an article on the free offer of the Gospel (Puritan Reformed Journal) and I am working on some small writing projects including an article on an aspect of the thought of Cornelius Van Til.
I also have notes for two additional volumes of NT exposition if the Lord is pleased to bring this to fruition.
Own David McWilliams' Hebrews commentary
The link provided will direct you to this volume via it's exact ISBN number: