The New International Biblical Commentary has been re-branded as the Understanding the Bible Commentary Series, published by Baker.
The New International Biblical Commentary was itself a re-branding of the Good News Commentary series, formerly by published by HarperCollins.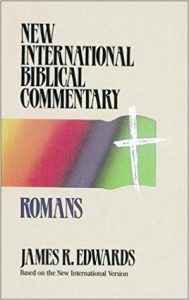 For example, Robert Mounce wrote the Matthew commentary in the GNC, NIBC, and the UBCS series.
These editions have different publishers, different cover designs, and belong to series with different names, but the content in each book is the same. [1]
The New International Biblical Commentary series offers the best of contemporary scholarship in a format that both general readers and serious students can use with profit.
Which commentary series is best for your purposes? See Best Bible Commentaries: Top 50. Based on aggregate reviews.
Want to save money on bible commentaries?
Logos Bible Software is the best digital resource for bible commentaries, theology books, and more. When you sign up through Best Bible Commentaries, you will save 10% on the cost of the software in addition to getting five free books. Click on the LOGOS image above to learn more.
Based on the widely used New International Version translation, the NIBC presents careful section-by-section exposition with key terms and phrases highlighted and all Hebrew transliterated.
A separate section of notes at the close of each chapter provides additional textual and technical comments.
Each commentary also includes a selected bibliography as well as Scripture and subject indexes.
Series Reviews
"The New International Biblical Commentary is an important new series which happily strikes the balance between the detailed technical commentary . . . and the popular level commentary." — Max Turner
"The NIBC has been written by internationally respected experts in Biblical Studies. Scholarly arguments are carefully analyzed and presented in a way that anyone concerned to gain a deeper understanding of the New Testament will find both accessible and helpful.
Christians of many different traditions will welcome this series as a valuable resource that will promote better understanding of the Bible and its message."
— John W. Drane, University of Stirling
New Testament Volumes
The links provided lead to Amazon.
1 Corinthians – Marion L. Soards 
2 Corinthians – James M. Scott 
Ephesians, Colossians, Philemon – Arthur G. Patzia 
1 and 2 Thessalonians – David J. Williams 
1 and 2 Timothy, Titus – Gordon D. Fee 
1 and 2 Peter, Jude – Norman Hillyer 
1, 2 and 3 John – Thomas F. Johnson 
Old Testament Volumes
Leviticus, Numbers – W. H. Bellinger, Jr. 
Deuteronomy – Christopher J. H. Wright 
Joshua, Judges, Ruth – Cheryl A. Brown, J. Gordon Harris, and Michael S. Moore 
1 and 2 Samuel – Mary J. Evans 
1 and 2 Kings – Iain W. Provan 
1 and 2 Chronicles – Louis C. Jonker 
Ezra, Nehemiah, Esther – Leslie C. Allen and Timothy S. Laniak 
Proverbs, Ecclesiastes, Song of Songs – Elizabeth Huwiler and Roland E. Murphy 
Jeremiah, Lamentations – Tremper Longman 
Minor Prophets, Vol. 1 – Elizabeth Achtemeier 
Minor Prophets, Vol. 2 – John Goldingay and Pamela Scalise 
---
See the Bible Commentaries Comparison Chart to compare this series to dozens of others.