Old and New Testament Library commentaries are biblical studies resources that have been published by Westminster John Knox press since the 1950's.
Volumes in the Old Testament Library series first appeared in the 1950's and were rooted in mid-twentieth century German theology.
As the series evolved over the following decades, more American authors contributed volumes.
A series on the New Testament was later established and many volumes have been released since the year 2000. The series' are incomplete and volumes are still being released, including replacements for older Old Testament commentaries.
Old and New Testament Library volumes concentrate on literary and theological analyses of Scripture and spend less time on exegesis and application.
The publisher has taken an inter-faith approach to commentary authors in the past, as some authors of Old Testament volumes are not Christians.
Some reviewers of these series have noted that authors often do not come to conservative conclusions nor do they identify as evangelical. Most take critical approaches to examining the text.
Which commentary series is best for your purposes? See Best Bible Commentaries: Top 50. Based on aggregate reviews.
Want to save money on bible commentaries?
Logos Bible Software is the best digital resource for bible commentaries, theology books, and more. When you sign up through Best Bible Commentaries, you will save 10% on the cost of the software in addition to getting five free books. Click on the LOGOS image above to learn more.
Old and New Testament Library Commentaries (OLT, NLT): Reviews
Many volumes in the Old and New Testament Library series have received excellent reviews from readers from various denominational and theological camps. The most well-reviewed Old Testament volumes include Brevard Child's Exodus commentary and Sara Japhet's I and II Chronicles commentary. The most well-reviewed New Testament volumes include Martinus C. deBoer's Galatians commentary, Stephen E. Fowl's Ephesians commentary, and Luke Timothy Johnson's Hebrews commentary.
OLT and NLT Author Interviews on Best Bible Commentaries
Jerry Sumney – Colossians (follow link to read entire interview)
Preview: "One of the most edifying things was the constant insistence on the certainty of forgiveness and relationship with God that we have in Christ. The poetic material in 1:15-20 gives its vision of the exalted place of Christ as assurance that we have forgiveness and that any decree against us is removed because of the work of Christ. Just as the Colossians were being taught that they needed other experiences for that full relationship with God, so we sometimes feel that we need something more. One of the central themes of Colossians is that we fully have life with God, beginning now, because of and in Christ."
Brian Blount – Revelation (follow link to read entire interview)
Preview: "It is my hope that the commentary can be beneficial for all Christians. The primary audience consists of pastors, students, and professors. But I believe that it can also be useful for Christians who are interested in learning more about the Book of Revelation. I have used the research in many church contexts of adult education across the years. The material has been enthusiastically received.
Also see: Daniel Smith-Christopher on Micah
Old and New Testament Library — Volumes
The links below go to Amazon, which sells new and used copies. Also visit Christian Book Distributors' OLT/NLT commentaries page to compare prices.
New Testament Volumes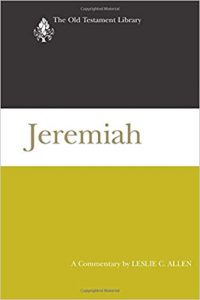 Mark: A Commentary – M. Eugene Boring | Published: 2006
Luke: A Commentary – John T. Carroll | Published: 2012
John: A Commentary – Marianne Meye Thompson | Published: 2015
Acts: A Commentary – Carl R. Holladay | Published: 2016
II Corinthians: A Commentary – Frank Matera | Published: 2003
Galatians: A Commentary – Martinus C. de Boer | Published: 2011
Ephesians: A Commentary – Stephen E. Fowl | Published: 2012
Philippians and Philemon: A Commentary – Charles B. Cousar | Published: 2009
Colossians – Jerry L. Sumney | Published: 2008
I & II Thessalonians: A Commentary – M. Eugene Boring | Published: 2015
I, II Timothy & Titus: A Commentary – Raymond Collins | Published: 2002
Hebrews: A Commentary – Luke Timothy Johnson | Published: 2006
I, II, & III John: A Commentary – Judith M. Lieu | Published: 2008
Revelation: A Commentary – Brian K. Blount | Published: 2009
Theology and Ethics in Paul – Victor Paul Furnish | Published: 2009
History and Theology in the Fourth Gospel – J. Louis Martyn | Published: 2003
The Word in This World – Paul W. Meyer | Published: 2004
Images of the Church in the New Testament – Paul Sevier Minear | Published: 2004
Paul and the Anatomy of Apostolic Authority – John Howard Schutz | Published: 2007
Old Testament Volumes
Genesis – Gerhard von Rad | Published: 1973
The Book of Exodus – Brevard Childs | Published: 1974
Leviticus – Erhard S. Gerstenberger | Published: 1996
Numbers – Martin Noth | Published: 1969
Deuteronomy – Richard D. Nelson | Published: 2002
Joshua – Richard D. Nelson | Published: 1997
Judges – Susan Niditch | Published: 2008
Ruth – Kirsten Nielsen | Published: 1997
I and II Samuel – A. Graeme Auld | Published: 2011
I and II Kings – Marvin A. Sweeney | Published: 2007
I and II Chronicles – Sara Japhet | Published: 1993
Ezra-Nehemiah – Joseph Blenkinsopp | Published: 1988
Esther – Jon D. Levenson | Published: 1997
The Book of Job – Norman Habel | Published: 1985
The Psalms – Artur Weiser | Published: 1962
Proverbs – Richard Clifford | Published: 1999
Ecclesiastes – James L. Crenshaw | Published: 1987
Song of Songs – J. Cheryl Exum | Published: 2005
Isaiah 1-12 – Otto Kaiser | Published: 1983
Isaiah 13-39 – Otto Kaiser | Published: 1974
Isaiah 40-66 – Claus Westermann | Published: 1969
Isaiah – Brevard S. Childs | Published: 2000
Jeremiah – Leslie C. Allen | Published: 2008
Lamentations – Adele Berlin | Published: 2002
Ezekiel – Walther Eichrodt | Published: 2003
Daniel – Carol A. Newsom | Published: 2014
Hosea – James Mays | Published: 1969
Joel and Obadiah – John Barton | Published: 2001
Amos – Jorg Jeremias | Published: 1998
Jonah – James Limburg | Published: 1993
Micah – James L. Mays | Published: 2007
Micah – Daniel L. Smith-Christopher | Published: 2015
Nahum, Habakkuk, and Zephaniah – J. J.M. Roberts | Published: 1991
Haggai and Zechariah 1-8 – David L. Petersen | Published: 1984
Zechariah 9-14 and Malachi – David L. Petersen | Published: 1995
Exile and Restoration – Peter R. Ackroyd | Published: 1968
A History of Israelite Religion in the Old Testament Period, Volume I: From the Beginnings to the End of the Monarchy – Rainer Albertz | Published: 1994
A History of Israelite Religion in the Old Testament Period, Volume II: From the Exile to the Maccabees – Rainer Albertz | Published: 1994
Introduction to the Old Testament – J. Alberto Soggin | Published: 1989
Jewish Wisdom in the Hellenistic Age – John J. Collins | Published: 1997
Old Testament Theology, Volume I – Horst Dietrich Preuss | Published: 1995
Old Testament Theology, Volume II – Horst Dietrich Preuss | Published: 1996
Theology of the Old Testament, Volume One – Walther Eichrodt | Published: 1961
Theology of the Old Testament, Volume Two – Walther Eichrodt | Published: 1967