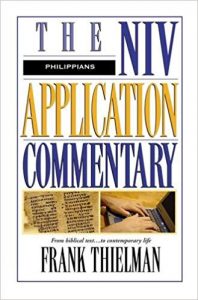 Frank Thielman is the author of the John volume in the NIV Application Commentary series.
This commentary is well-reviewed for the author's exegesis.
That a primary focus of the series, and this volume, is application, many teachers and preachers will find it helpful.
Dr. Thielman joined the Beeson Divinity School faculty in 1989, teaching courses in Greek exegesis.
He is a noted New Testament scholar, concentrating primarily in the Pauline epistles.
Thielman is the author of many books including, Romans (Zondervan Exegetical Commentary on the New Testament, 2018) and Theology of the New Testament: A Canonical and Synthetic Approach (Zondervan, 2005).
The complete list of his publications is listed below.
He is a member of the Studiorum Novi Testamenti Societas (SNTS), and is an ordained Presbyterian (PCA) minister. [2]
Get this book on Amazon via its exact ISBN: Philippians – Frank Thielman
Comparison Chart: See the Bible Commentary Comparison Chart to see how the NIVAC series compares to dozens of other commentary series
Series Reviews
"It is encouraging to find a commentary that is not only biblically trustworthy but also contemporary in its application. The NIV Application Commentary will prove to be a helpful tool in the pastor's sermon preparation. I use it and recommend it."
— Charles F. Stanley, pastor, First Baptist Church of Atlanta
"The NIV Application Commentary series doesn't fool around. It gets right down to business, bringing this ancient and powerful Word of God into the present so that it can be heard and delivered with all the freshness of a new day, with all the immediacy of a friend's embrace."
— Eugene H. Peterson
"The NIV Application Commentary series promises to be of very great service to all who preach and teach the Word of God."
— J. I. Packer, Regent College
The NIVAC Series
Most Bible commentaries take us on a one-way trip from our world to the world of the Bible.
But they leave us there, assuming that we can somehow make the return journey on our own.
They focus on the original meaning of the passage but don't discuss its contemporary application.
The information they offer is valuable—but the job is only half done!
The NIV Application Commentary Series helps bring both halves of the interpretive task together.
This unique, award-winning series shows readers how to bring an ancient message into our postmodern context.
It explains not only what the Bible meant but also how it speaks powerfully today.
See the main page for the NIVAC series: NIV Application Commentaries
[1] Summary text provided by the publisher.