John W. Hilber is the author of the Psalms volume in the Zondervan Illustrated Bible Backgrounds Commentary series. Dr. Hilber (B.S., University of Washington; Th.M., Dallas Theological Seminary; Ph.D., University of Cambridge) is professor of Old Testament at Grand Rapids Theological Seminary in Grand Rapids, Michigan. His research interests include the Old Testament in its ancient near eastern religious and literary context.
Dr. Hilber is also the author of several other books, including Cultic Prophecy in the Psalms and the upcoming Behind the Scenes of the Old Testament: Cultural, Social, and Historical Contexts.
7 Questions on Psalms in the ZIBBC Commentary Series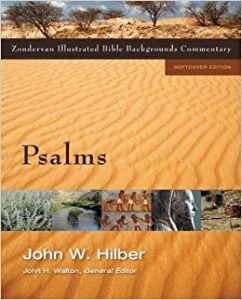 Recently, Dr. Hilber graciously answered my questions about his Psalms commentary. Readers will learn how this commentary came to be, what is unique about it among Psalms commentaries, and how the project edified him personally.
1. What previous research and/or personal interests led you to this project and helped prepare you to write this commentary on Psalms?
I was working on my doctoral dissertation at Cambridge on Neo-Assyrian prophetic texts and question of cultic prophecy in the psalms when John Walton, the editor for the Zondervan Bible Background Commentary—Old Testament, asked me to write the commentary on Psalms. That was a big risk he took, asking a relatively untested scholar to tackle this project; and I'm forever grateful to him. Much of my doctoral study had been on Assyrian and Egyptian backgrounds to psalms, so it was a natural expansion of what I was already working on for my specific dissertation topic. I had previously spent 15 years in pastoral ministry, so he knew I had a good sense for what a pastor would find helpful.
2. Who is the intended audience for this commentary? Would it benefit pastors? professors? students? lay Christians in the local church?
The design of ZIBBCOT is to make relevant ancient Near Eastern background material accessible to non-specialists. The target audience is primarily pastors and laity interested in serious Bible study, as well as scholars who are not Old Testament scholars. At the same time, we were asked to support our comments from technical sources (something not provided in existing, non-technical commentaries). So, for example, the Psalms commentary offers around 800 endnotes that guide readers to primary sources and technical discussions.
3. What is unique about this commentary? What contribution does it make to studies of Psalms?
As just mentioned, at the time of release, the only sources that shed light on the meaning of the biblical text from background studies were either very technical commentaries or works that were not adequately supported by reference citations. There were good commentaries on the exegesis and theology of the Psalms, but ZIBBCOT is unique in the attention it brings to archaeology and comparative ancient Near Eastern studies.
4. What section or passage of this commentary was particularly memorable to research and write? Why?
I think the most surprising thing to me was the nature of figurative language for suffering in the psalms. Imagery of physical and mental anguish pervade the psalter, and it is very similar to the type of poetic expressions found in other ancient hymns of lament. The important point is that as poetry, such language is intended to be stereotypical, so that any individual can enter into the emotions of the psalm without necessarily identifying with the exact circumstances of the psalmist.
5. What personally edified you in writing this commentary, increasing your affections for Christ?
A dominant theme of psalms is the role of the king in bringing the blessings of God's kingdom to humanity. This responsibility for cosmic order can be seen in royal hymns and prayers throughout the ancient Near East; it is the groaning of every human heart. To know that it is my Jesus who will make the world right draws me to him in dependence and hope.
6. Besides your commentary, what are your top recommended books (commentaries or otherwise) on Psalms?
The classic commentary by Derek Kidner (original Tyndale Old Testament Commentary on Psalms) remains one of my first stops when studying a psalm for personal devotion or preparation for preaching. My thanks to InterVarsity for retaining this commentary in print in spite of its recent replacement for the series by another good commentator, Tremper Longman III. Appreciating the wholistic message of a psalm is so important, and no one has done this better than Allen P. Ross in his Kregel exegetical commentary.
7. What is next for you? What project are you currently working on? How can people follow your work and ministry?
I am co-editing with Jonathan Greer and John Walton a new book entitled Behind the Scenes of the Old Testament. It will be released by Baker Academic this coming fall (2018). There are over 65 introductory articles on nearly every important background topic for Old Testament studies, written by an international team of experts on their respective areas of specialization. In addition, I have just completed a book on Old Testament cosmology and the doctrine of divine accommodation, and I hope to complete a preacher's commentary on Ezekiel by the end of the summer. I maintain a profile on academia.edu where I update my publications.
Own John Hilber's Psalms commentary
The link provided will direct you to this volume via it's exact ISBN number: