Bible study aids are excellent tools that help people understand Scripture. While the information in them doesn't replace the biblical text, like a great preacher or teacher, they make God's Word easier to comprehend. Reference Bibles and Study Bibles are two such tools.
A reference Bible is a type of Study Bible, which provides information about verses and passages of Scripture that relate to the primary text a person is studying or reading. References Bibles help readers understand how one verse or passage relates to another verse or passage in God's Word.
What are some examples of the information Reference Bibles provide to readers? How can someone use a Reference Bible better? Should a person get a Reference Bible or a Study Bible for their personal Bible study? Keep reading to learn answers to these questions and many more.
There are many Study Bibles to choose from today. For help see the Study Bible Comparison Chart to quickly and easily compare dozens of them.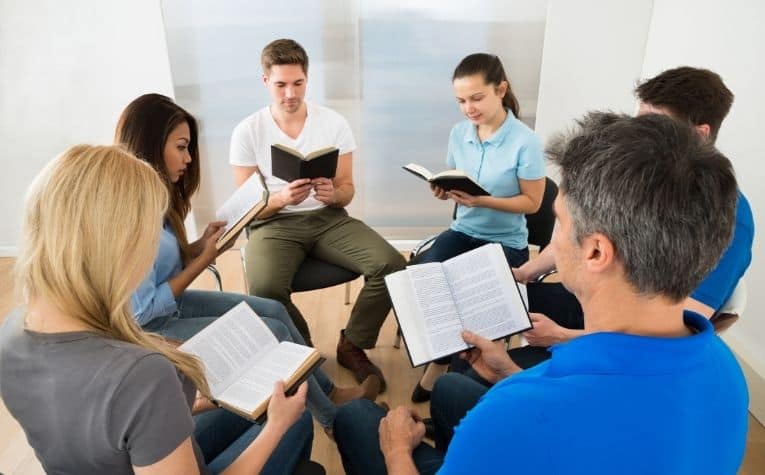 Reference Bibles and Study Bibles: Similarities
Because Reference Bibles are a type of Study Bible, they have many similarities. For starters, they are both study tools designed to help Bible readers understand Scripture. In addition, they both contain "cross references," but Reference Bibles offer a lot more of them, and Study Bibles discuss other topics besides related verses and passages.
Reference Bibles
Study Bibles
Purpose
to help readers understand God's Word
to help readers understand God's Word
Focus
supplying thousands of cross references
supplying some cross references, as well as information about history, theology, and application
Difference
some supply upwards of 50,000 cross references
many supply more than 10,000 references, but less than 25,000 because they need room for articles on history, theology, and application
Readers
any Bible reader, beginning to advance
any Bible reader, beginning to advanced
Translations
come in most popular English translations
come in most modern English translations
Example of a popular edition
Thompson Reference Bible (link to Amazon)
NIV Study Bible (link to Amazon)

ESV Study Bible (link to Amazon
Don't be overwhelmed trying to choose the right Bible for you or a loved one. See How to Choose a Study Bible to learn more.
What are cross references in the Bible?
Cross references are verses or passages of Scripture that relate to another verse or practice of Scripture. Using cross references helps readers understand biblical topics better and help them see the Bible as a whole, complete book, as opposed to a disconnected collection of writings.
Cross references enable in-depth Bible study
If a Bible reader is studying the life of Peter in the Gospel of Matthew, for example, they would have a more complete picture of the Apostle if they also studied what Mark and Luke record about him. Cross references help readers find that information quickly and easily. Consider Jesus' rebuke of Peter for an example:
"Peter took him aside and began to rebuke him. 'Never, Lord!' he said. 'This shall never happen to you!'"

Matthew 16:22 (NIV)
Mark 8:31-32 is a common cross reference to Matthew 16:22 because it records the same story. Because there are two authors, and each has a unique perspective and way to tell the story, a reader can gain more insight.
"He then began to teach them that the Son of Man must suffer many things and be rejected by the elders, the chief priests and the teachers of the law, and that he must be killed and after three days rise again. He spoke plainly about this, and Peter took him aside and began to rebuke him."

Mark 8:31-32
What are readers to make of the differences in parallel accounts? First, mere differences aren't contradictions or problematic to the reliable and trustworthy nature of God's Word. Reading two different accounts of the same event sheds light on variations because each observer is unique.
An analogy: Imagine that two sports teams from different towns played a game on a Saturday afternoon. The next day, in each town's Sunday morning paper an article appeared that summarized the game. Most likely those two articles would include different perspectives on the game, because, after all, one team won the game and one team lost it. The articles don't contradict each other, they compliment each other, but they are told from a unique perspective.
An example cross reference from the writings of Paul
In Romans 3:23, Paul writes every single person — no matter their race, social class, gender, or the time in which they lived — has missed the mark with God.
"For all have sinned and fall short of the glory of God."

Romans 3:23, emphasis added
Genesis 8:21 is a crossfreference to Romans 3:23 because it states that every single person has an evil heart from childhood.
"The LORD smelled the pleasing aroma and said in his heart: 'Never again will I curse the ground because of humans, even though every inclination of the human heart is evil from childhood. And never again will I destroy all living creatures, as I have done.'"

Genesis 8:21, emphasis added
Ecclesiastes 7:20 is another example of a cross reference to Romans 3:23.
"Indeed, there is no one on earth who is righteous, no one who does what is right and never sins."

Ecclesiastes 7:20, emphasis added
Need help with your daily Bible reading? See What is a Devotional Bible? to get help and learn more.
Study Bibles have cross references
All Study Bibles include cross references, but they don't have as many as Reference Bibles because they include other information. Instead of being the primary study feature like in Reference Bibles, cross references are just one of many features in Study Bibles. Other feature Study Bible have include:
Maps of regions, nations, cities, towns, waterways, and more
Charts of kings, populations, weapons, mothers, animals, jewels, and more
Timelines of individual lives, countries, wars, famines, missions work, the end times, and more
Articles on doctrine and theology, biographies of biblical characters, social customs, and more
Reading plans to help people read through the Bible in a year or through the Psalms in a month, as well as numerous other examples
Study notes, often found at the bottom of each page, that explain passages and verses, highlighting theology, history, and more
Application suggestions so that readers can understand how passages and verses are relevant to them and their lives
Why choose a Reference Bible over a Study Bible?
A reader should choose a Reference Bible over a Study Bible is they only want to use Scripture to study Scripture. There is a saying that some scholars and pastors regularly use: "The best interpreter of one verse or passage in the Bible is another verse or passage in the Bible."
Two well-reviewed References Bibles:
Why choose a Study Bible over a Reference Bible?
A reader should choose a Study Bible over a Reference Bible if they want to learn about Scripture is a holistic way, e.g. its historical setting, its theological teachings, and its relevance to the modern day.
Well-reviewed Study Bibles:
Links go to Amazon
Important: When it comes to deciding between a Reference Bible and a Study Bible, it's critical to know that one isn't right and one isn't wrong. Either one will help readers understand the Bible better, which is the goal. In fact, one solution that many people have found helpful is to have a Reference Bible in their personal library and a Study Bible!
Should your Study Bible stay at home? See Take Your Study Bible to Church: 5 Reasons It's a Great Idea to learn more.