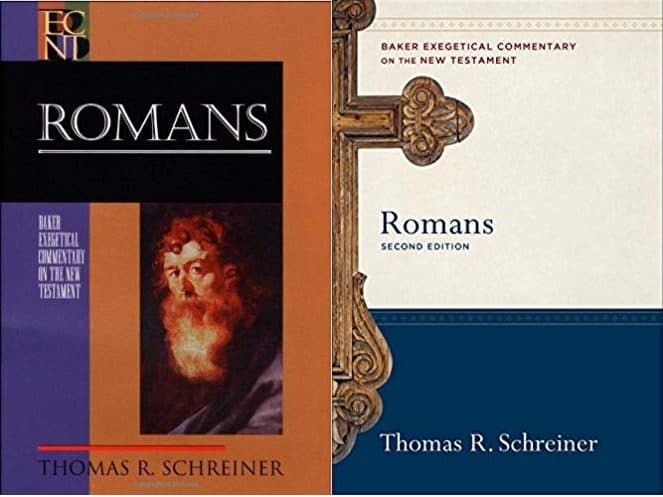 Thomas Schreiner is the author of the Romans volume in the Baker Exegetical Commentary on the New Testament. It is considered on the best Romans commentaries.
This commentary was originally published with an orange and purple cover design. The BECNT series has a new blue and white cover design. Schreiner revised the original volume, now called a "Second Edition," which is only available in the new cover design.
D. A. Carson calls this commentary a "best buy" on Romans.
Desiring God ministries describes it as a Top 3 recommended commentary on Romans.
Also read Best Bible Commentaries' interview with Thomas Schreiner on this volume.
Schreiner (PhD, Fuller Theological Seminary) is James Buchanan Harrison Professor of New Testament Interpretation and professor of biblical theology at Southern Baptist Theological Seminary in Louisville, Kentucky. He has taught at SBTS for more than twenty years.
Volume Details
Hardcover: 944 pages
Publisher: Baker Academic; 2nd edition (2018)
ISBN-10: 9781540960054
ISBN-13: 978-1540960054
Get this book on Amazon via its exact ISBN: Romans – Thomas Schreiner
Commentary Overview
Commentary Reviews
"Schreiner has produced an exemplary commentary of one of the most challenging books of the New Testament canon. His book contains the kind of incisive exegesis and theological astuteness that are mandatory for a Romans commentary. Schreiner's insightful discussions unfailingly lead the reader to the heart of an issue, his arguments are clearly presented, and his conclusions are carefully and wisely drawn. The scholarship is informed and up-to-date. The end result is an exceptionally clear and concise treatment, yet with an impressive amount of detail. Schreiner's work will take its place among the best commentaries on Romans currently available."
~ Donald A. Hagner, Fuller Theological Seminary
"As I preach through Romans I will continue to reach for this commentary with joy and hope. There are at least four reasons. First, Schreiner bows with reverence before the authority of Paul's letter as God's inspired Word. Second, he submits meticulously to the grammatical and historical particularities of the text, tracing out Paul's line of thinking in his own terms. Third, he wrestles with recent scholarly thought (without getting lost). Fourth, he is faithful in holding up the manifestly God-centered theme of this greatest of all letters, namely, that 'in Romans God's ultimate purpose is to display his glory to all people.'"
~ John Piper, founder and teacher, desiringGod.org
Volume Overview
The publisher notes that Pauline scholar Thomas Schreiner presents a fresh analysis of the substantive Book of Romans.
It features many distinctives. "I have tried to write a scholarly commentary that fulfills the goals of brevity and lucidity," Schreiner explains.
"One of my goals has been to trace the flow of thought in the letter so that the reader can understand how the argument unfolds. I have also tried to wrestle with the meaning of Romans theologically. . . . In particular, I have attempted to demonstrate inductively that the glory of God is the central theme that permeates the letter."
Series Overview
The Baker Exegetical Commentary on the New Testament (BECNT) series provides commentaries that blend scholarly depth with readability, exegetical detail with sensitivity to the whole, and attention to critical problems with theological awareness.
All BECNT volumes feature the author's detailed interaction with the Greek text and are specifically designed with students and pastors in mind.
The user-friendly design includes shaded-text chapter introductions summarizing the key themes of each thought unit.
Chapter outlines and overviews allow easy entry into the discussion and aid comprehension and recall.
With extensive research and thoughtful chapter-by-chapter exegesis, these commentaries will be valued by students, professors, and pastors alike.
See more about this series: Baker Exegetical Commentary on the New Testament