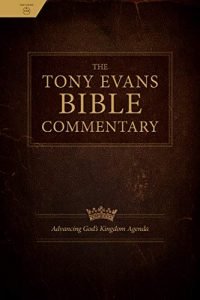 Pastor Tony Evans is the author of a one-volume whole bible commentary, which covers the Old and New Testament.
This commentary takes a section-by-section approach to the biblical text, though key verses are explained in detail.
Evans is Baptist and premillennial. This commentary is intended for all audiences. Pastors, Sunday school teachers, and bible study leaders would find it easy to use.
Bible readers are are looking for a quick-reference guide to keep in their personal library may consider this volume as well.
Evans is the senior pastor at Oak Cliff Bible Fellowship in Dallas, Texas, which is a church of approximately 10,000 people.
Use the One-Volume Whole Bible Commentary Comparison Chart to compare The Tony Evans Bible Commentary to over 40 one and two-volume bible commentaries.
Please see a list of the best-reviewed one-volume whole bible commentaries.
Volume Details
Hardcover: 1,440 pages
Publisher: Holman Bible Publishers (2019)
ISBN-10: 0805499423
ISBN-13: 978-0805499421
Get this book on Amazon via its exact ISBN: The Tony Evans Bible Commentary
Commentary Overview
Tony Evans is one of the most influential church leaders of our time and has been studying and preaching the Gospel for over 50 years. He is senior pastor of Oak Cliff Bible Fellowship in Dallas, TX and founder of The Urban Alternative, a ministry which promotes a kingdom agenda philosophy designed to enable people to live all of life underneath the comprehensive rule of God.
The Tony Evans Bible Commentary includes an introduction to each Bible book followed by passage-by-passage exposition of the entire Bible by Dr. Tony Evans. In addition, there is a special front matter section with introductory resources. The insights in this commentary will help explain God's Word in a fresh way. Applying these truths will empower readers to have transformed lives that then transfer the values of the kingdom of God to others.
The Tony Evans Bible Commentary features the highly readable, highly reliable text of the Christian Standard Bible® (CSB). The CSB stays as literal as possible to the Bible's original meaning without sacrificing clarity, making it easier to engage with Scripture's life-changing message and to share it with others.
Commentary Features
Introductory Material
In the beginning of the Tony Evans Commentary, there are various articles and content that guide the reader on how to use this particular commentary along with tips on how to study the Bible more effectively. Other front matter includes a theology overview, the attributes of the triune God, and a bibliology.
Video Devotionals
Brief videos on various topics can be found throughout the commentary, which you can access on your mobile device using the provided QR code. Some are devotional; others are segments from Tony Evans' sermons. Each video is designed to enhance your study experience by helping you dive deeper on a topic or providing you with encouragement in your study.
Dr. Tony Evans is the founder and senior pastor of Oak Cliff Bible Fellowship in Dallas for over 43 years, founder and president of The Urban Alternative, long-term chaplain of the NBA's Dallas Mavericks and Dallas Cowboys, and author of over 100 books, booklets, and Bible studies.
He has been named one of the 12 Most Effective Preachers in the English-Speaking World by Baylor University. Dr. Evans was the first African-American to be graduated from Dallas Theological Seminary with a Doctoral degree. He is also the first African-American to publish a Study Bible and Commentary.
Dr. Tony Evans is married to Lois, his wife and ministry partner of over 50 years. They are the proud parents of four, grandparents of thirteen and great-grandparents of two. His radio broadcast, The Alternative with Dr. Tony Evans, can be heard on more than 1,300 US outlets daily and in more than 130 countries. For more information, visit TonyEvans.org.