A topical bible is one of the most popular study aids Christians use today.
Many bible readers keep a copy near their personal bible for quick access.
A topical bible is a simple and informative reference tool that anyone can learn to use in a matter of minutes.
This study aid helps readers understand Scripture better, from Genesis to Revelation.
So what exactly is a topical bible?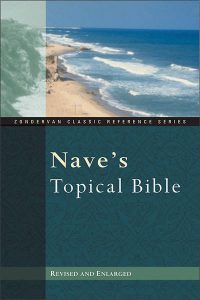 A topical bible consists of alphabetically organized entries on subjects found in Scripture. Each entry lists bible verses and passages on a given subject.
For example, the entry on "altars" includes a list of all the verses or passages in Scripture that mention that topic.
The entries in full-length topical bibles include all the words found in relevant verses and passages, while concise editions list the chapter and verse numbers only.
Unlike bible dictionaries, topical bibles typically don't offer significant amounts of explanation on subjects other than brief clarifying comments.
Like bible concordances, topical bibles list thousands of references from A to Z, which are conveniently organized for easy access and effective bible study.
Topical bibles save people a lot of time. For example, say a person wanted to study all the verses and passages in the bible that teach about money.
The long-form way to do such a study is to read all 66 books of the bible and hunt for all the places that money is mentioned.
With a topical bible, however, a person just turns to "M," and flips through the alphabetically-listed "M" entries to find "money."
The "money" entry will include a brief definition and then list all Old and New Testament verses that teach about money.
In this way, topical bibles enable a person to study any topic in Scripture at lightning speed.
Want to save money on bible commentaries?
Logos Bible Software is the best digital resource for bible commentaries, theology books, and more. When you sign up through Best Bible Commentaries, you will save 10% on the cost of the software in addition to getting five free books. Click on the LOGOS image above to learn more.
How topical bibles organize passages and verses
Topical bibles have a unique feature that similar reference tools, like concordances, don't have, which is why many bible readers use both study aids.
Whereas concordances list all the verses that contain the word "money," which is helpful, topical bibles list passages that discuss money, even those where the exact word isn't used.
For example, the word "money," but use related words like "investment," "debt," "taxes," and "tithing" will also be listed in a topical bible.
Here is an example from Christian theology: Some of the English terms Christians use to discuss certain doctrines come from languages such as Latin, as opposed to one of the original languages of the bible, Hebrew, Aramaic, or Greek.
For instance, the word "trinity" is a theological word, derived from Latin, that describes biblical teaching, but the term itself doesn't appear in Scripture.
A concordance will not contain the word "trinity" because it only lists words found in Scripture.
But a topical bible will have an entry labeled "trinity" and include subsections on verses in which the Father is called God, verses in which the Son is called God, and verses in which the Spirit is called God.
Help for preaching, teaching, or leading a bible study
As someone who regularly communicates the bible to groups of people, topical bibles have not only helped me with content as well as the organization of my teaching. When I researched the subject of joy, the topical bible I used contained over a dozen subsections on joy, including "joy in trails," "joy in salvation," and "joy in persecution."
After I read through the verses and passages listed in the entry, which covered both testaments on the topic, I created a 12-week study called "Joy in the Bible" using the Scripture listed in the topical bible. The study spanned Genesis to Revelation, covered different aspects of life, discussed the inner self and outward actions, and included a lesson on joy in the life of Jesus — all because those were subsections found in my topical bible.
Information found in each entry
There are multiple pieces of information contained in each entry in a topical bible. Understanding these features will help bible readers maximize the usefulness of the tool. After the subject title, most topical bibles include these items:
1. Strong's numbers: These numbers appear right next to the subject. They sometimes appear in parentheses: for example, "triumph (1452, 1504)." These four-digit numbers correspond to a classic reference work called "Strong's," which is the last name of the scholar who published it. When a person looks up 1452 in Strong's concordance, they will learn the definition of "triumph" as it's used in the relevant verse. Multiple numbers (e.g. 1452, 1504) refer to various forms of the same word, like "triumphing," "triumphs," or "triumphed."
2. Translation-specific notes: Some topical bibles are intended to be used with specific English translations. This kind of topical bible can be used by any reader, no matter what translation they use, but some notes provide information on a particular translation.
For example, if a person looked up the word "flesh" in a topical bible, they will find listings for literal-physical uses of the term as well as spiritual-theological ones. Some English translations render the spiritual use of the term "flesh," but the NIV doesn't. Instead, it chooses to translate the word using its spiritual-theological meaning — "sinful nature" — as opposed to the literal translation, "flesh." A topical bible that is intended to be used with the NIV translation will include a brief explanation about this at the beginning of the "flesh" entry.
3. Sub-sections: Some entries in topical bible are longer than others because of the importance of the subject or the variations there are to the term. In such instances, the information may be organized into sub-sections for ease of reading and study, like the above example about the "joy" entry.
Classic Topical Bibles
The best-known and most often-used topical bible is Nave's. Named after Orville J. Nave, who first published the reference tool while serving as a chaplain in the United States army, this edition is now considered a classic. It contains 20,000 topics and subtopics, and lists over 100,000 passage and verse references based on the KJV translation. Hardback editions often exceed 1,500 pages in length. New copies can be found for $15-$20. Used copies can usually be had for $5-$10 less.
Bible scholar John R. Kohlenberger III has updated Nave's Topical Bible using the NIV translation. The publisher summarizes:
"The Zondervan NIV Nave's Topical Bible improves on the original King James Version-based Nave's Topical Bible by adding more than 500 headings, 2,000 subtopics, and 1,300 cross-references. You'll find entries addressing contemporary issues such as abuse, ecology, homosexuality, and abortion — all either directly including or else referencing the best-selling New International Version text, and easily usable with other translations as well."
Pastor John MacArthur has also published a topical bible called, The MacArthur Topical Bible: A Comprehensive Guide to Every Major Topic Found in the Bible. The publisher summarizes:
"It's a comprehensive volume of 20,000 Bible topics and more than 100,000 Bible passages, carefully cross-referenced and organized for quick and complete visual location. It's an amazing time-saver for teachers and pastors planning their lessons."
Topical Bible Comparison Chart
[table id=5 /]
Take the Next Step
A topical bible isn't an advanced reference tool. Someone brand new to bible reading can use a topical bible to supplement their study, and it may prove to expedite their knowledge and understanding of the bible. 2 Timothy 2:15 says, "Do your best to present yourself to God as one approved, a worker who has no need to be ashamed, rightly handling the word of truth." Study aids like topical bibles help readers correctly handle Scripture for personal growth and edification to the glory of God in Christ Jesus.
Sources