There are many different kinds of Bibles. Each kind is intended to help Christians understand Scripture better, though their study notes (not the Scripture itself) are sometimes different. Devotional Bibles are different than other Bibles due to their unique focus.
Devotional Bibles are a type of Study Bible, which focus on helping you apply Scripture to your life. While the study notes often provide a basic explanation of each passage, their focus is on guiding you to think through what the biblical text means to your life today.
How do you use a devotional Bible? What are the best devotional Bibles available today? How is a devotional Bible different than other kinds of Study Bibles? Keep reading to learn more.
Researching Study Bibles? Compare dozens of them in one place on The Study Bible Comparison Chart.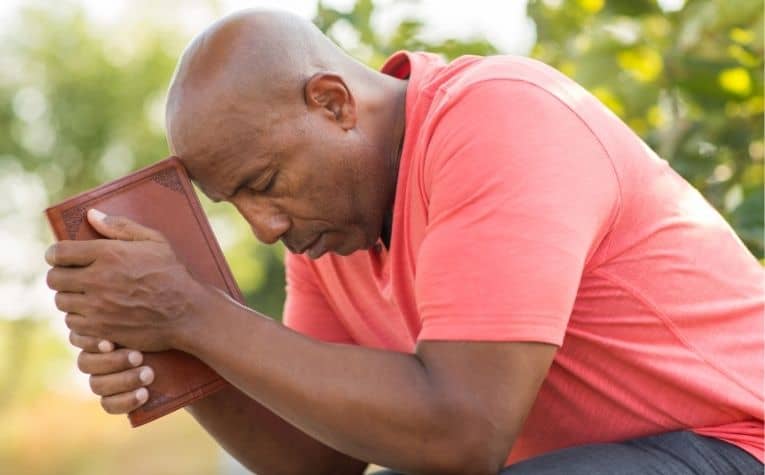 How do you use a devotional Bible?
Devotional Bibles are intended to be read daily. Many Christians have developed the habit of reading the Bible in the morning as part of their daily routine. But other Christians read Scripture at lunch time and some prefer to read it in the evening.
What is the meaning of "devotional"? In this context, the word devotional refers to someone's devotion or commitment to God and His Word. Christians often refer to their "devotions," which is a way to talk about their pattern of Bible reading. They establish a routine of "devotions" because they are "devoted" to God through Jesus Christ.
Daily readings: Devotional Bibles often contain a daily reading plan. These plans, which are often organized into charts, tell a person what passage of Scripture to read on a particular day. For example, on July 1 the chart may indicate that the reading for that day is Psalms 51 and the Gospel of John 1-2.
Daily reflection: Devotional Bibles often lead readers to reflect on passages of Scripture and the truths found within them. Following Christ and being a disciple of his involves having a new identity.
As the Apostle Paul taught, who you were before meeting Christ is different than who you are after meeting Christ.
Reflecting on who God is, who you were, and who you are becoming in Christ is an important discipline to develop.
Daily application: Reflection is an important part of your devotional reading. What's also important is application, which is often expressed as an action.
Not every application will involve a big, life-altering action, like "I need to become a missionary!"
Most applications will involve everyday actions that help a person become more like Christ.
For example, after reading James, your application may be "I need to watch my words with my family" or after reading Matthew 28, your application may be "I need to pray for my non-Christian friend on a daily basis." Devotional Bibles will help you do this.
Obedience: When a person reads their Bible consistency, they are following the guidance of passages like Joshua 1:8, which reads,
"This Book of the Law shall not depart from your mouth, but you shall meditate on it day and night, so that you may be careful to do according to all that is written in it. For then you will make your way prosperous, and then you will have good success."

Joshua 1:8 (ESV, emphasis added)
Not sure if a devotional Bible is right for you? See How to Choose a Study Bible to learn more.
What are the best devotional Bibles available?
Life Application Study Bible
Get this book on: Amazon | Christian Book Distributors
This Study Bible is great for beginners because the New Living Translation is one of the easiest English translation to understand and because it's filled with so many study tools, that's it's like having several books all in one. The study notes focus on how to apply Scripture to one's life, though there is still plenty of information on history and theology, too.
It also comes in the NIV translation and the King James Version (links go to Amazon).
Features:
Nearly 10,000 Life Application® notes and features

Over 100 Life Application® profiles of key Bible people

Introductions and overviews for each book of the Bible

More than 400 maps & charts placed for quick reference

Dictionary/concordance

Extensive side-column cross-reference system to facilitate deeper study

16 pages of full-color maps

Words of Jesus are in red letter
NIV Study Bible
Get this book on: Amazon | Christian Book Distributors
This Study Bible is great for beginners because the NIV has survived the test of time as a solid, dependable, and accurate English translation. Since it's been around longer than a lot of Study Bibles, it is considered a classic by many Bible readers.
It won the Gold Medallion Award in 1985 and has built a positive reputation ever since. Since this Study bible is produced by the NIV company, it does not appear in other English translations.
Features:
Complete text of the accurate, readable, and clear New International Version (NIV)

Over 20,000 study notes, with icons to make important information easy to spot

Introductions and outlines provide valuable background information for each book of the Bible

In-text maps, charts, diagrams, and illustrations visually clarify the stories in the Bible

16 pages of full-color maps plus time lines and presentation page

Words of Jesus in red
ESV Study Bible – English Standard Version
Get this book on: Amazon | Christian Book Distributors
This Study Bible is great for beginners because, though the ESV is a relatively new translation (first appearing in 2001), it is becoming the preferred version for many Christians.
The ESV uses modern English, not old English, and was produced by a team of bible scholars who had average reading in mind.

The notes and articles are why this Study bible won the ECPA Book of the Year Award in 2008.

The notes cover application, history, theology, literature, and much more.
Illustrated pictures are in color. Dozens of articles are included at the end of the book on various topics from the Trinity to Islam to how the Bible came to be. Because this Study Bible is published by the ESV company, it only comes in one translation.
Features:
20,000+ study notes

80,000+ cross–references

200+ charts

50+ articles

240 full-color maps and illustrations
Also see What is a Woman's Study Bible? to learn more.
CSB Study Bible – Christian Standard Bible
Get this book on: Amazon | Christian Book Distributors
This Study Bible is great for beginners because the CSB is a new, yet well-reviewed, English translation and it's packed with helpful illustrations. The book itself is high-quality, but affordable. Sometimes when Study Bibles pack so much information in its pages, it's challenging to even hold the book open. But that's not the case here.
In relation to cost, this is one of the better deals on Study Bibles. Because the CSB company produced this Study bible, it is not offered in other English translations.
Features:
368 word studies to introduce you to the context and meaning behind key Greek and Hebrew words
High-quality binding that will lie open whether you are reading Genesis 1 or Revelation 22

Full-color visuals to help you see the structure and context of Scripture come alive, including 94 photographs, 55 maps, 44 paintings, 21 illustrations/reconstructions, 19 charts, and 61 timelines

Introductions and outlines for each book, including background information, theological themes, and insights into the unique contribution of each book

Easy-to-read layout with two columns of text, Jesus' words in red, center-column cross-references, and three columns of notes
Illustrated Study Bible NLT – New Living Translation
Get this book on: Amazon | Christian Book Distributors
Attention visual learners! Welcome to your new favorite book! The NLT Illustrated Study Bibles takes illustrations — from maps to charts to other graphics — to the next level.
Though it's relatively new, this Study Bible has already received a lot of positive reviews, including being the recipient of the 2016 Christian Book Award for Bible of the Year.
The NLT translation is also one of the easiest to read, which makes this Study Bible an engaging tool for people that are new to reading the Bible.
Features:
Hundreds of information-rich windows to the Bible world instantly communicate foundational truths and complex information in an understandable, compelling way for today's visual generation.

The who, what, where, when, and why of the Bible come alive with stunning photos, illustrations, infographics, and full color maps integrated seamlessly with background material, study notes, and theme articles.

The Illustrated Study Bible empowers readers to draw closer to God by opening their eyes to Scripture's living, powerful message.
How are devotional Bibles different than other Bibles?
Devotional Bibles focus on personal reflection and life application. Yet there are also others kinds of Study Bibles:
Historical Background Study Bibles: These Study Bibles provide readers with a lot of information about the historical, cultural, and social background of the Bible. For example, the study notes related to Paul's New Testament epistles would be about the Roman Empire.
Theological or doctrinal Study Bible: The study notes in this kind of Bible focus on beliefs. The study notes may be about the Trinity, the Holy Spirit, or the end times. Some theologically focused Study Bible adhere to the beliefs of a particular denomination, but others are broader and could be used by a member of any Christian church.
Also see Best ESV Study Bibles for further comparison.