The Gospel According to the Old Testament commentary series highlights the gospel of Jesus Christ in the 39 books of the Old Testament. Easy to read and understand, the GAOT series is great for sermon preparation, bible studies, Sunday schools, and devotional reading. Theological discussion centers around where Christ is seen in the Old Testament books and how he ultimately fulfills the authors' messages. Pastor and author Tim Keller called the GAOT series "a tremendous resource" and pastor and professor Phillip Graham Ryken called it "an important series."
Note: See the Bible Commentaries Comparison Chart to see how the GAOT series compares to dozens of other commentary series.
The Gospel According to the Old Testament (GAOT): Reviews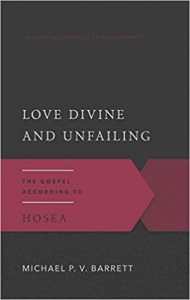 D. A. Carson, Trinity Evangelical Divinity School:
"One of the most urgent needs of the church is to grasp how the many parts of the Bible fit together to make one 'story line' that culminates in Jesus Christ. This series of books goes a long way to meeting that need. Written at a thoughtful but popular level, it deserves wide circulation."
Sinclair Ferguson, senior minister, First Presbyterian Church, Columbia, SC:
"At last a series on the Old Testament designed to provide reliable exposition, biblical theology, and a focus on Christ. These books should be like manna in the desert to pastors, preachers, teachers, and many individual Christians who struggle to come to terms with how to read the Old Testament."
Author Interviews from the GAOT series on Best Bible Commentaries
Michael Barrett – Hosea: (click to see entire Q & A)
Preview: "To realize that Hosea's love for Gomer was unrelenting and undeserved and from a human perspective made little sense, and then to see how that is magnified and intensified when considering Christ's love for His bride. Humanly speaking it makes no sense, but it is all of grace."
Gregory Cook – Nahum: (click to see entire Q & A)
Preview: "Nahum is the least-known, least-taught, and least-preached book in the Bible. Each book of the Bible is important—none is redundant. Severe Compassion gives preachers and laity a tool to understand the historical situation of Nahum as well as its application to the modern Christian."
More interviews:
Michael Barrett – Hosea (click to see entire Q & A)
George Schwab – Judges (click to see entire Q & A)
Volumes in The Gospel According to the Old Testament Series
The links below go to Amazon, which sells new and used books. Also visit Christian Book Distributors' GAOT commentaries page to compare prices.
Living in the Light of Inextinguishable Hope
The Gospel According to Joseph – Iain M. Duguid and Matthew P. Harmon
Dennis E. Johnson, professor of practical theology, Westminster Seminary California:
"The perfect sequel to Iain Duguid's explorations of the gospel according to Abraham and according to Isaac and Jacob. In each chapter Duguid and his pastoral colleague Matt Harmon lead us from the study–with strategic insights into each text's original language, literary artistry, cultural context, and interpersonal dynamics–through the pulpit–with vivid articulation and conscience-searching application to our crooked hearts and broken relationships–to Jesus, whose undeserved suffering on the cross rescues us from destruction, melts our pride, and reconciles the most dysfunctional of families."
Right in Their Own Eyes
The Gospel According to Judges – George M. Schwab
Mark J. Boda, professor of Old Testament, McMaster Divinity College, Hamilton, Ontario, Canada:
"In Right in Their Own Eyes, George Schwab takes readers on a journey into an ancient textual world that is at times jarring to modern sensibilities. He is a fascinating tour guide with an accessible style of delivery who does not avoid the difficult texts, making clear their meaning within their original era of redemptive history before tracing their significance for Christian readers today."
Longing for God in an Age of Discouragement
The Gospel According to Zechariah – Bryan R. Gregory
Mark J. Boda, professor of Old Testament, McMaster Divinity College, Hamilton, Ontario, Canada:
"Bryan Gregory's Longing for God in an Age of Discouragement makes the biblical message of Zechariah accessible to all, It provides disciplined, yet understandable exegesis of this prophet's message, which is then traced through the broader redemptive drama climaxing in Jesus and intersecting the lives of his followers today. Such interpretation is a timely gift to a church living through challenging times."
The Gospel According to Hosea – Michael P. V. Barrett
Joel R. Beeke:
"Love Divine is a clear, honest, panoramic treatment of the book of Hosea, poignantly showing how Hosea and Gomer's treatment of each other reflected God and Israel's treatment of each other. Dr. Barrett excels in unfolding his views logically on solid exegetical, hermeneutical, and theological grounds. The book is compelling in its Christ-centeredness and is a masterpiece in expounding God's loving and gracious covenant in its internal and external dimensions. Love Divine is also true to the personal experience of covenantal grace in the lives of believers. All of this makes it a sheer delight to read. Every pastor should study Love Divine before preaching from the book of Hosea, and every Christian will find it enlightening and God-glorifying."
From Famine to Fullness
The Gospel According to Ruth – Dean R. Ulrich
Christopher W. Mitchell, Marion E. Wade Chair of Christian Thought, Wheaton College:
"This lively book with rich Gospel content is written in a lucid style that communicates easily to pastors and laity alike. It explains how the story of Ruth is part and parcel of the redemptive history that extends from Genesis to Revelation: The good news that God has provided our Kinsmen-Redeemer, Jesus Christ, who grants us the forgiveness of sins and the inheritance of resurrection to everlasting life. God worked through ordinary Old Testament believers in distressing situations to bring about redemption for a Moabite who became an ancestress to Christ. Our time of suffering too are opportunities for God to strengthen our faith and work through us to bring salvation to others."
After God's Own Heart
The Gospel According to David – Mark J. Boda
Philip Graham Ryken, pastor, Tenth Presbyterian Church, Philadelphia:
"After God's Own Heart is an excellent contribution to an important series on the biblical theology of the Old Testament. As Mark Boda shows in this useful and accessible book, the house of David is central to the Bible's message of salvation. Using a thematic approach that is well informed by careful scholarship, Boda explores David's many connections to Christ and to the church as the covenant community of David's Son."
Crying Out for Vindication
The Gospel According to Job – David Jackson
Steven Horine, Calvary Baptist Seminary, Lansdale, PA:
"Why do the innocent suffer? Drawing upon his years of pastoral ministry, David Jackson takes us on an interesting journey where we experience, along with Job, "the depth of God's grace to us in Christ–who, by his own choice, suffered more than Job to save us from the cruelty and domination of sin." This book is a 'must read' for anyone going through difficult times."
Hope in the Midst of a Hostile World
The Gospel According to Daniel – George M. Schwab
Michael P. V. Barrett, president, Geneva Reformed Seminary:
"God reveals the future to affect the present. Prophecy glorifies the One in control, inspires believers' confidence, intensifies hope for God's will to be done, and moves people to repentance and holiness. This study of the book of Daniel highlights these essential aspects of prophecy. Given the mysterious symbolism throughout Daniel, not every reader will agree with Schwab's interpretation of this or that detail. But his focus is clear: God's absolute control and unrelenting resolve to accomplish his redemptive purpose in Christ should give God's people in every age 'hope in the midst of a hostile world.'"
Salvation through Judgment and Mercy
The Gospel According to Jonah – Bryan D. Estelle
Mark Futato, Robert L. Maclellan Professor of Old Testament, Reformed Theological Seminary, Orlando:
"Bryan Estelle combines biblical-theological, historical, and literary insights to illuminate the message of Jonah. He shows us Christ in each movement of the story and guides us to respond in faith and obedience."
Michael Kelly, assistant professor of Old Testament, Westminster Theological Seminary:
"In this section-by-section reading of Jonah, Estelle offers a valuable blend of insights into the ancient Near Eastern setting of the book, interaction with its literary and theological subtleties, and relevant contemporary insights. Above all, he presents Christocentric reflections throughout, guiding the reader to see 'the One who is greater than Jonah.'"
V. Philips Long, professor of Old Testament, Regent College:
"With a sharp eye to the intricate literary workings and multifaceted theological meanings of the book of Jonah, Estell achieves a fine balance between textual exposition and contemporary application. Careful to avoid allegorization and resistant to the claim that finding Christ in the book constitutes a Christian 'colonization' of the Old Testament, Estelle offers a well-reasoned and circumspect Christological reading of Jonah."
Living in the Grip of Relentless Grace
The Gospel in the Lives of Isaac and Jacob – Iain M. Duguid
Timothy J. Keller, founding pastor, Redeemer Presbyterian Church, Manhattan:
"Iain Duguid is both a first-class scholar and a gifted preacher. This book is theologically astute, Christ-centered, and extremely practical. A tremendous resource."
Immanuel in Our Place
Seeing Christ in Israel's Worship – Tremper Longman III
Peter Enns, professor of Old Testament, Eastern University:
"Old Testament conceptions of worship must be understood in light of how the death and resurrection of Christ bring these conceptions to a heightened sense of clarity and fulfillment. Longman creatively and clearly brings together the Old Testament data within such a biblical theological grid. His insights will be of immediate relevance for Christians concerned about the nature of worship not only in the Old Testament but also today."
Bruce K. Waltke, professor of Old Testament, Knox theological Seminary:
"Christians struggle in understanding the relevance of large parts of the Old Testament. This is particularly true of matters concerning the worship of ancient Israel. In this beautifully conceived work, Longman has illuminated the priestly material of the Old Testament in a way that makes it theologically relevant for today. I heartily recommend this work."
Faith in the Face of Apostasy
The Gospel According to Elijah and Elisha – Raymond B. Dillard
Moisés Silva, former professor, Westmont College, Westminster Theological Seminary, and Gordon-Conwell Seminary:
"The Old Testament stories of Elijah and Elisha are as fascinating as they are puzzling, and Christian readers will be delighted to find in this book just the help they need. Few writers combine scholarly expertise and theological good judgment as the late Ray Dillard did . . . highly recommended for anyone who wishes to understand Old Testament narrative."
Living in the Gap between Promise and Reality
The Gospel According to Abraham – Iain M. Duguid
Bryan Chapell, distinguished professor of preaching, Knox Theological Seminary:
"Jesus explained that all the Scriptures that had preceded him were about him. This means that if we preach or teach on any passage of the Old Testament and do not speak of him, we fail to mention the very thing that Jesus said the passage is about . . . I am grateful for this immensely accessible book . . . which closes the gap between Christ's redemptive work and the life of Abraham."
Willem A. VanGemeren, professor of Old Testament and Semitic languages, Trinity Evangelical Divinity School:
"Prof. Duguid's The Gospel According to Abraham significantly helps Christians to see that Abraham is an important figure on the road that leads to the Lord Jesus Christ. The Author pulls the reader into the dramatic unfolding of the story of Abraham as a significant stage in in the larger story of salvation."
A Journey to Wholeness
The Gospel According to Naaman's Slave Girl – Mark Belz
George Robertson, pastor, First Presbyterian Church, Augusta, GA:
"Using this beautiful Old Testament presentation of the gospel, Mark Belz woos us to be reconciled to God and man."
Susan Hunt, conference speaker, author, and former director, Women's Ministries in the Church (PCA):
"This is a book that lingers. . . . This riveting read is now on my list of favorite books."
Severe Compassion
The Gospel According to Nahum – Gregory D. Cook
Elizabeth Groves, lecturer in Old Testament, Westminster Theological Seminary:
"Greg has done the hard work of digging into the Hebrew text; he has gleaned insights from scholars and learned about the world and time in which Nahum wrote; he has sat with and listened carefully and humbly to the text; he has seen and appreciated how it speaks about and points to Jesus; and he has then gone on to consider how its message speaks to us today as people in union with Christ."
Recovering Eden
The Gospel according to Ecclesiastes – Zack Eswine
Donald C. Guthrie, Trinity Evangelical Divinity School:
"A pastorally poetic guide to the endlessly 'wild and strange wonder called Ecclesiastes'. . . . Be sure to reflect on the weighty questions that Zack provides after each chapter. They offer the reader a timely opportunity to respond to the author's thoughtful observations of an ultimately hopeful text."
From Bondage to Liberty
The Gospel according to Moses – Anthony T. Selvaggio
Joel R. Beeke, president, Puritan Reformed Theological Seminary, Grand Rapids:
"Nowhere does the theme of redemption shine more brightly in the Old Testament than in Exodus. Anthony Selvaggio draws us into the story of Moses in a most personal way. In concise and stirring chapters, he shows us the beauties of the Lord Jesus and teaches us practical lessons about godliness."
Dennis E. Johnson, professor of practical theology, Westminster Seminary California:
If you have wondered what Scriptures Jesus might have cited when he showed his disciples the things concerning himself 'beginning with Moses' (Luke 24:27), Anthony Selvaggio provides a significant part of the answer."
Inconspicuous Providence
The Gospel according to Esther – Bryan R. Gregory
Elizabeth Groves, lecturer in Old Testament, Westminster Theological Seminary:
"It is a blessing when scholarly research results in deep insights for practical, everyday faith. Here you will find real, concrete hope in Christ that calls you to faith and action and that speaks even to despair and life's darkest moments."