Study bibles contain notes, articles, and illustrations to help readers understand Scripture.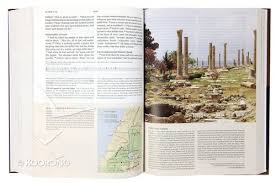 Some study bibles have notes on the bottom of every page and include commentary on almost every verse, while others have notes on select verses.
Other study bibles include full-length articles on topics such as important archaeological discoveries, biographies on important men and women in the Bible, or explanations about Christian theology and doctrine.
A significant advantage of study bibles over other resources works is that all of the information is found in one book and is literally at the fingertips of readers.
The contents below are intended to help you navigate the world of study bibles.
After browsing the commentaries below, see Best Bible Commentaries: Top 50. Based on aggregate reviews.
Study Bibles: Which One is Best for You?
Please see: Study Bible Comparison Chart
This chart compares over 50 different study bibles, including new releases and classic favorites. Learn what English bible translations they use and what theological approach is adopted.
Please see: How to Choose a Study Bible
Because study bibles have been proven to be useful and effective resources, literally dozens of them have been published in recent years. So how does a person choose the right one for them?
There is no one right approach because readers have different needs and study bibles have different purposes. Yet most people find, after doing a little research, that there is a study bible that meets their needs.
Reviews and summaries
The Ancient Faith Study Bible is unique among study bibles and will continually reward bible readers who are drawn to Christian history and theology.
Biblical Theological Study Bible
The General Editor of the Biblical Theology Study Bible is biblical scholar and theologian, D.A. Carson.
Systematic Theology Study Bible
Because theology is rooted in the Word of God, the project designers of the STSB aim to teach doctrine right next to the Scripture upon which it is based.
Why the Ryrie Study Bible is so Popular
The Ryrie Study Bible, named after its author, theologian Charles Caldwell Ryrie (1925-2016), is one of the most popular bible study resources of the last 50 years.
Also see Best Study Bibles for Men for more options.
Lists of Study Bibles
By Translation
By Reader
Best Study Bible for Beginners