Bible handbooks are a time-tested way to supplement a person's study of Scripture.
Many bible readers keep one on a home bookshelf for easy access, and use it to aid their devotional reading, bible study, or understanding of a sermon.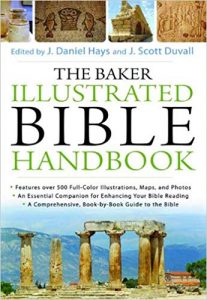 Bible handbooks are user-friendly, even to those that are new to reading Scripture.
So what exactly are bible handbooks?
Bible handbooks are a middle-of-the-road reference tool that are not as in-depth and complex as commentaries, yet they provide more information than bible dictionaries and concordances.
Arranged in order of the books of the bible, from Genesis to Revelation, bible handbooks aren't necessarily intended to be read strait through like an introductory textbook to the Old or New Testament.
Bible handbooks are glorified study bibles and often include more visual aids, like photographs, maps, and charts, than other popular resource tools.
Bible handbooks provide similar information on each of the 66 books of the bible.
This includes discussion on the book's message, setting, literary type, and theological emphasis, and a brief overview of the major sections of the biblical book itself.
Occasionally, authors will include an in-depth article on a topic that is important to the bible as a whole, like creationism or the Trinity.
Bible handbooks also provide book recommendations so readers know where to go to dig deeper on a book or topic.
Also see What is a Bible Concordance? to learn more.
Want to save money on bible commentaries?
Logos Bible Software is the best digital resource for bible commentaries, theology books, and more. When you sign up through Best Bible Commentaries, you will save 10% on the cost of the software in addition to getting five free books. Click on the LOGOS image above to learn more.
Bible Handbooks: Example Information
Take the book of Matthew, for instance. After an approximately 100-word introduction, in which the author, date, and historical setting are discussed, the writer begins to give an overview of the biblical text.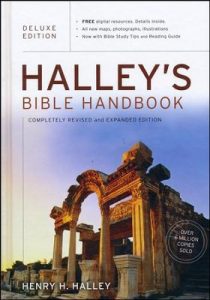 Scripture isn't usually quoted word-for-word in bible handbooks, like it is in most commentaries, because the purpose of this tool isn't to be a heavy reference work, but a quick-access study aid.
Matthew is 28 chapters in length and author of the handbook organizes his information according to the common outline of this Gospel. He first comments on Matthew, chapters one and two. The total section amounts to about 300 words.
He writes a paragraph on the genealogy in 1:1-17, another paragraph on Jesus' birth story in 1:18-25, and two paragraphs on the arrival of the wise men and the flight to Egypt in Matthew 2. Certain verses are singled out in sidebars, like 1:1-3, where the author describes how it was unusual to list women in a genealogy at this time in history.
Following this, the rest of Matthew, usually organized in two or three blocks of chapters at a time, is explained and discussed.
An important feature of bible handbooks, and something that usually makes them different than other study aids like commentaries and concordances, is how heavily illustrated they are. For example, in just the few pages that cover Matthew 1-2, there are two half-page, full-color pictures.
The first shows the present-day town of Bethlehem at dusk as the lights of the town shine over the brown and green landscape below. The second picture is of the city of Nazareth in the daytime, taken from a nearby hilltop, looking down over homes and buildings that cover the hillside.
---
Well-reviewed Bible Handbooks
---
The Baker Illustrated Bible Handbook
Get this book on: Amazon | Christian Book Distributors
From the publisher: The Baker Illustrated Bible Handbook offers the most up-to-date evangelical biblical scholarship in a format that is readable and easy to understand. This book-by-book guide brings the Bible to life with more than 1,100 full-color pages packed with illustrations, maps, and photos, and 112 in-depth articles on a wide range of topics important to students of the Bible. Readers will discover how each part of the Bible fits into and informs every other part, giving them a cohesive understanding of God's Word.
---
Halley's Bible Handbook, Classic Edition: Completely Revised and Expanded Edition
Get this book on: Amazon | Christian Book Distributors
From the publisher: Halley's Bible Handbook makes the Bible's wisdom and message accessible to everyone. Whether you've read the Bible many times or never before, you will find insights that provide a firmer grasp of God's Word and an appreciation for the cultural, religious, and geographic settings in which the story of the Bible unfolds. Written for both mind and heart, this completely revised, updated, and expanded edition features:
All-new maps, photographs, and illustrations

Contemporary design

Practical Bible reading programs

Helpful tips for Bible study

Fascinating archaeological information

Easy-to-understand sections on how we got the Bible and on church history

Improved indexes
---
Zondervan Handbook to the Bible
Get this book on: Amazon | Christian Book Distributors
Continuously in print since 1973, this fifth edition of the classic Zondervan Handbook to the Bible has been updated with new imagery. From the history and design of the temple in Jerusalem to God's relationship with the universe, you'll find it here. The land, culture, battles, feast days, heroes, and villains of Scripture come alive through spectacular color-filled articles and images of meticulous clarity and detail.
Special features include:
A four color guide to all the books of the Bible

Over 120 articles by an international team of experts

More than 700 color photographs, many of them new

68 maps and 20 charts
---
Concordia's Complete Bible Handbook
Get this book on: Amazon | Christian Book Distributors
This book presents a survey of all 66 books of the Bible and the time between the Old and New Testaments. Readers will explore and discover the who, what, when, where, why and how of:
The Books of Moses

The Books of History

The Books of Wisdom

The Books of the Prophets

The Time Between the Testaments

The Gospels and Acts

The Pauline Epistles

The General Epistles and Revelation
The handbook also includes articles, charts, diagrams, genealogies, illustrations, maps, outlines, overviews and timelines that provide additional detail for personal, group or class study.
---
The MacArthur Bible Handbook
Get this book on: Amazon | Christian Book Distributors
From the publisher: The MacArthur Bible Handbook is the ultimate book-by-book survey of the Bible, including charts, graphs, and illustrations from today's leading expository teacher. A unique reference tool that is committed to quality and biblical teaching—will help you easily understand each book of the Bible, its historical context, and its place in Scripture.
---
Holman Illustrated Bible Handbook
Get this book on: Amazon | Christian Book Distributors
From the publisher: The Holman Illustrated Bible Handbook is designed with an awareness of the obstacles people have to understanding the Bible. It begins with an essay on "How to Read and Study the Bible" before proceeding to chapters that provide a thorough overview of each of the Bible's 66 books, summarizing each one's content, author, evidences of authenticity, and historical context.
In addition to the full-color maps, photographs, reconstructions, and charts that equip readers throughout the volume, a smartphone-accessible QR code is included for each chapter that leads to related online teaching from noted Bible scholar Gene Getz.
---
The New Unger's Bible Handbook
Get this book on: Amazon | Christian Book Distributors
From the publisher: The New Unger's Bible Handbook remains indispensable to quality study, chocked-full of color illustrations, photographs, maps, diagrams, charts and more. Now with updated graphics, this classic is sure to be a favorite among the next generation of Bible scholars.
---
Ryken's Bible Handbook
Get this book on: Amazon | Christian Book Distributors
"Oh, how great are God's riches and wisdom and knowledge!" (Romans 11:33)
Go beyond merely reading the Bible, and discover it's deeper treasures with the help of "Ryken's Bible Handbook." Whether you're new to Bible study or have read the Scriptures countless times, greater riches are waiting to be unearthed. The background and literary genre of each book will come alive as you gain insight into each book's message and learn methods for analyzing its content. The handbook's countless applications for life will increase your appreciation for the ways God reveals himself and his character through the Scriptures.
Inside you'll find Maps, charts, and illustrations A fact sheet for each book Key verses Key doctrines Overviews and main themes Perspectives from theologians, educators, and authors One Year Bible-reading plan.
Also see What Is a Bible Atlas?